Syncing Yandex Browser between devices
Restriction.
You can't sync between different browsers, like
Yandex Browser
and Google Chrome.
Syncing involves data exchange between Yandex Browsers on your devices. Data is stored temporarily on the Yandex server and passed over a secure channel. Passwords are passed in encrypted format. The data on the server is protected by the authorization system. Syncing allows you to access data from all your devices and restore data if your device is lost or broken.
Why do I need syncing?
Attention.
Do not enable syncing on other people's or public devices, it's safer to use
Incognito mode
on them.
By default, syncing applies to tabs, bookmarks, passwords, history, extensions, plugins, and AutoFill data.
Use syncing to:
Use the

password manager

on your synced devices (automatic entry of passwords, encrypted password vault, and recovery of website access if you forget your master password).

Recover passwords, bookmarks, tabs, and Yandex Browser settings, even if something goes wrong with your device.
You can turn off syncing or adjust the list of data to sync at any time when using the browser.
Use the widget at the top of the menu to access sync settings quickly:

 → Set up sync. To turn it on:
Click 

.

Under 

General settings

, select

Show sync widget in the menu

.
If the widget is disabled, click 

 → Settings → Sync settings to go to the sync settings.
How often is data synced?
After you enable syncing, data will be synced each time you change data that is stored on the server. For example, when you add a bookmark on your device, Yandex Browser sends it to the server and simultaneously downloads all the changes that you've made on your other devices since the last sync.
How do I enable syncing?
Attention.
If your Yandex Browser has multiple
profiles
, make sure you are in your own profile before syncing. Otherwise, you might mix your data and settings with the data from someone else's profile that is currently active.
In order for syncing to work you have to:
Have Yandex Browser installed on all the devices (computer, smartphone, and tablet).
To enable syncing:
Click 

.

Log in

with your Yandex ID. Syncing will start.

Click 

.

Select the data you want to sync.
Note.
The first time you turn on device syncing, it may take from several minutes to half an hour. The data is downloaded gradually to avoid slowing down Yandex Browser.
Changing the list of data to sync
Click 

.

Turn on options that allow you to sync only the data you need.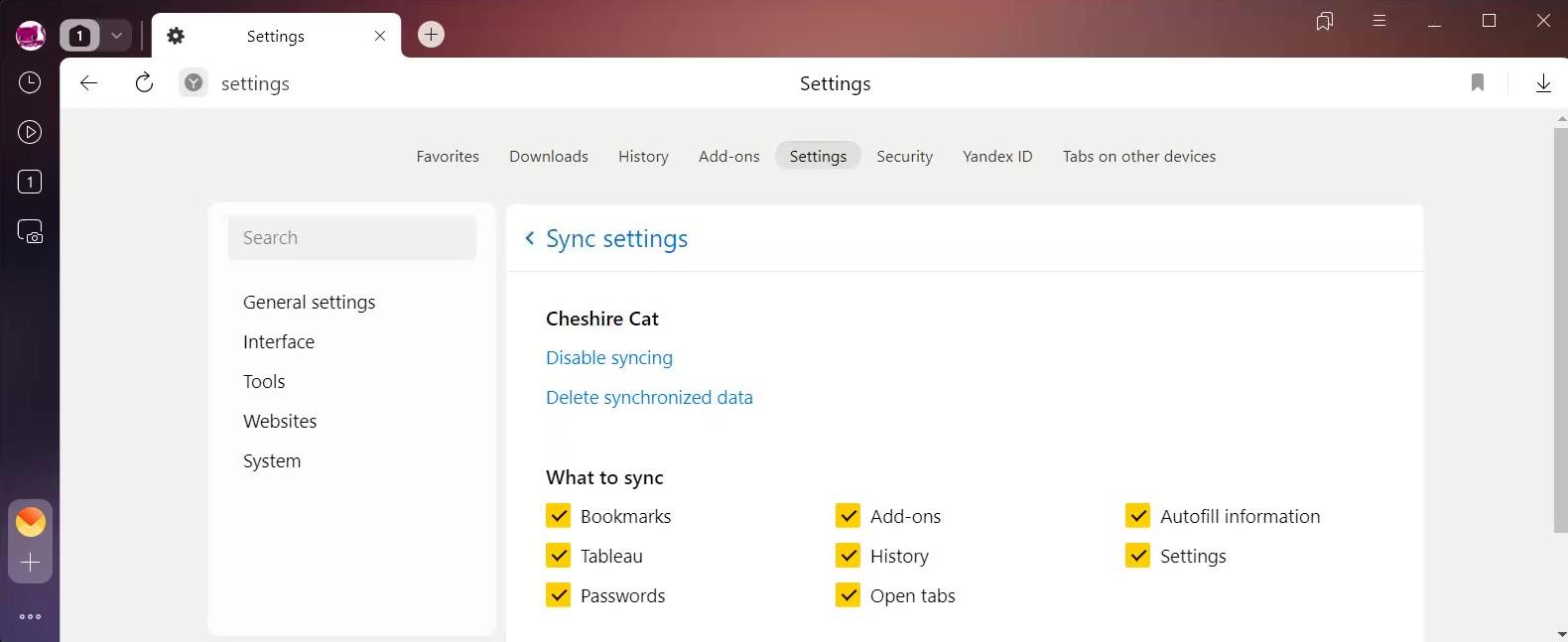 Note.
The cache doesn't sync Bank card syncing is available if the
master password
is enabled.
Delete synced data
Attention.
After the data has been deleted from the server, no one can recover it. Do not delete your synced data if you just want to stop syncing a computer you no longer use. In this case,
disable
syncing for the computer, and then
delete your profile with all the data
.
To delete data from all your synced devices:
Click 

.

Click 

Delete synchronized data

.

In the

Would you like to delete this information?

window, confirm the action by clicking

Yes, delete

.
After that, your data will be deleted from the server. During the next synchronization, it will also be deleted from all synced devices linked to your account.
Disable syncing
Click 

.
Note.
Please note that this only interrupts the connection to the server, but previously downloaded data remains in Yandex Browser. If you don't need it on this computer,
delete it manually
. You can also delete synced data
on all your devices
.