Yandex Zen
Note.
This section describes Yandex Zen settings available to readers. Working with Yandex Zen as an author or publisher is described in a separate
Help
section.
Zen is a Yandex service that gathers materials you are interested in and shows them all in the same feed. News, articles, videos, and blog entries can all be viewed in Zen, without going from site to site searching for information.
To create a personalized feed, Zen collects information about your interests. This is only possible when you are logged in to Yandex. If you read Zen on different devices, log in to each of them using the same account. This will help the feed adapt to your interests much faster.
How Yandex Zen works
Note.
Yandex Zen is not only integrated with Yandex Browser for desktop, but also with the mobile browser for
iPhone
,
iPad
,
smartphones
and
tablets
based on Android. Read the Zen article in Help to find out how to enable or disable Zen in your device's mobile browser.
Yandex Zen recommendation engine generates a recommendation feed that is gradually adapted to your interests. It analyzes your interaction with the feed based on your subscriptions, ratings and material you choose to hide within the feed. Also, it takes into account your search queries, browser history, and other data on your online preferences. The data is stored anonymously, so you don't have to worry about your data privacy. As a result, you receive individual recommendations that include materials from sites you haven't visited yet. If your interests change, the Yandex Zen feed adjusts to them after a while.
Recommendations are displayed when a new tab is opened. To see more recommendations, scroll the feed with the pictures down.Tabs
To refresh your recommendation feed, go to the Yandex Zen tab and click New posts or press F5.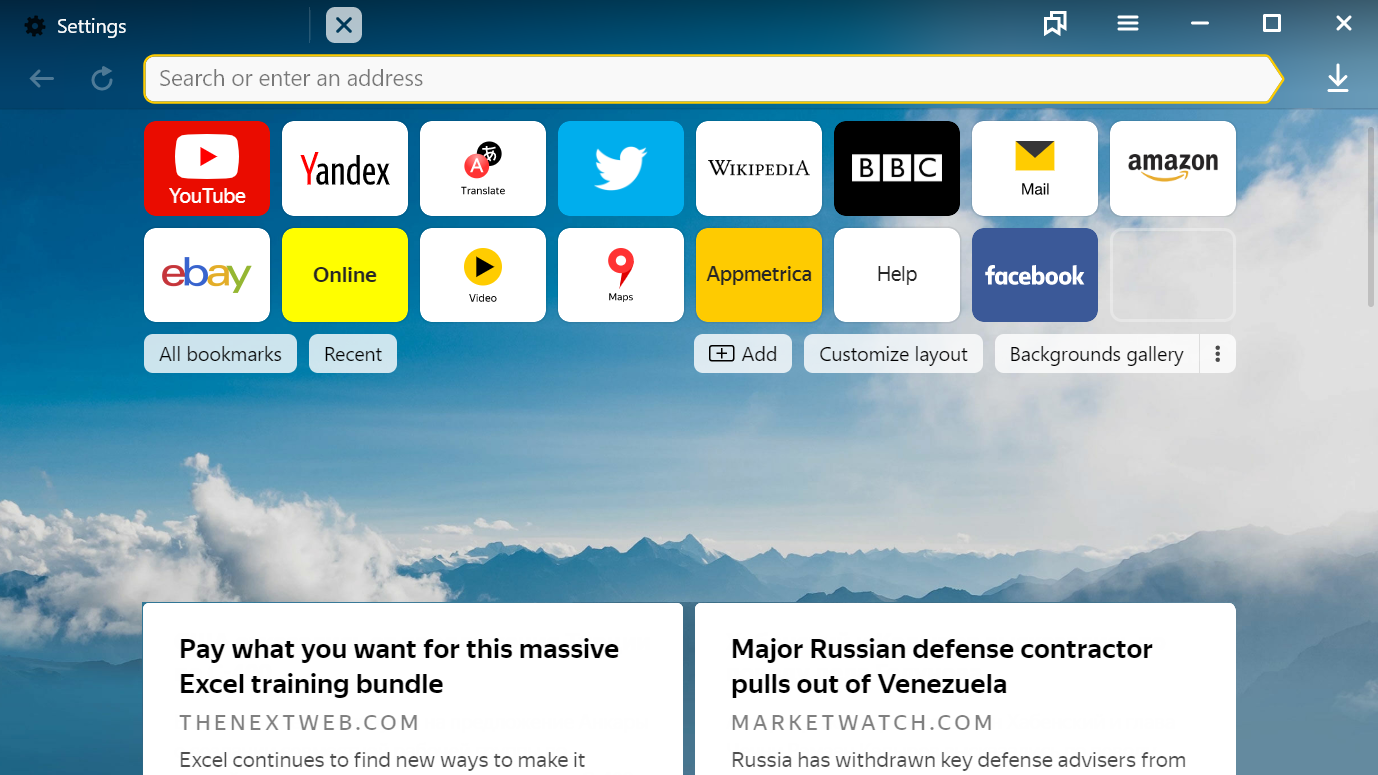 Zen adapts to match your interests
Zen analyzes your online reading habits and adjusts the content of the recommendations feed to your interests. This takes time (1-2 weeks if you rarely use Yandex services). If you want the feed to adjust to your interests faster:
Manage comments
After logging in to Yandex you can leave comments on articles and posts in Zen. You don't have to subscribe to a channel to do this.
Actions with comments

Add comments.

Delete comments.

Reply to comments or rate them.

Copy the link to a comment and share it via email or social media.

Report a comment.

Limitations for making comments

The maximum length of a comment is 4000 characters, including spaces.

Comments do not support images, links, or text formatting.

You can't edit previously created comments.

You can't comment on narratives or videos.

If the author has disabled comments for a certain publication, you can't view or add comments.

Your name and photo for comments

All comments display your account information in

Yandex.Passport

:

Photo. To change your photo in the comments section, click the

icon displayed above the image in the account. Until you add a photo to your account, your comments will display a randomly selected image, e.g.

.

Data from the

Name in comments and reviews

field. This is where your first and last name is shown by default. If you do not want them to appear in comments, enter an alias in the

Name in comments and reviews

field. You will leave comments and reviews under this alias in all Yandex services. You can't change your name for just one Yandex service.

Attention.

We don't recommend changing the first name, last name, or other information that you entered during registration, because this will make it more difficult to restore access to your account.
Turning the recommendations feed off and on again
Note.
The recommendations feed is turned on by default.
Turn off the recommendations feed

Click .

Go to the

New tab

section.

Clear the box labeled

Show Yandex Zen recommendations feed

.

Turn on the recommendations feed

Click .

Go to the

New tab

section.

Turn on the option

Show Yandex Zen recommendations feed

.

Turn on the feed if you opted out of recommendations during installation

Click .

In the

Users

section, click

Add user

.

Choose a profile icon.

Set a profile name.

If necessary, turn off the option

Create a desktop shortcut for this user

.

Open a new tab.

In the

Yandex Zen

section, click

Enable

.

Select at least five sources of interest to you.
Zen problems
The feed is not shown

Sign in to Yandex. If the feed is not shown after the sign-in:

Open the

Zen

website and make sure it works. If the site is unavailable, this indicates a systematic crash of the entire service. Wait until Zen is back.

Check whether the Yandex Browser option

Show Yandex Zen recommendations feed

is turned on.

If the feed is still not displayed, contact our support staff using the feedback form.

The feed won't adapt to my interests

If you are logged in but still have to set up your Yandex Zen feed from scratch every time you launch the browser, then check whether

cookies

are

disabled

. Yandex Zen uses your history of visited sites to generate your recommendation feed. If you are not saving cookies, then Zen is not able to collect your information for analysis.